For the first time since I began dating the great woman who would become my wife, I have ten days all to myself. It's been over 12 or 13 years since I've experienced this much solitude. There is, of course, the time I have to devote to work, but the rest is all mine.
In addition to clearing my head and recharging my batteries at home, I decided to visit my former hometown of Austin. I probably make 2-3 trips to Austin per year, but those I make with my wife and 4-year-old son.
This trip is different. This time I get to do Austin on my own terms, no compromises. This is my introvert's travelogue.
The mode of transportation this trip is a 2013 Nissan Altima. It's my wife's primary vehicle, and a very comfortable ride that delivers great fuel economy. The starting point is home in Dallas.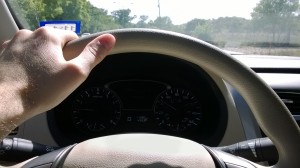 My plan was to devote most of Saturday to getting things done in and around home and then, later in the day, drive to Waco to spend the night. I ended up spending most of the day purchasing a new car, which I decided not to bring on the trip. I'm not sure why, but I didn't want to travel that far with a new vehicle that didn't have its permanent license plates yet. Besides, the Altima gets better mileage.
The drive from Dallas to Waco is nice and short — about one and a half hours. Driving through downtown Dallas is always a bit hairy. Other than that, the drive was nice and relaxed.
91.7 KXT (public Dallas station) provided musical accompaniment for most of the trip. It was good all in all, but a little too heavy on maudlin, 1980s diarrhea stuff. I can't tolerate that type of music too well anymore; it sounds like whiny kids to this contented adult.
Baylor's new McLane Stadium, an imposing structure when you pass it on the highway, looks close to completion. It was around this time I realized I forgot to pack my Texas Longhorns baseball cap.
It took me a while to find the Hampton Inn Waco – South because the directions were confusing. It's off the main interstate on a road that changes direction in the most unusual ways. A wrong turn will lead you into a shopping center, where I ended up eating dinner later.
My room was huge, dark and comfortable. At first I thought it might be an accessible room because of its size and walk-in shower.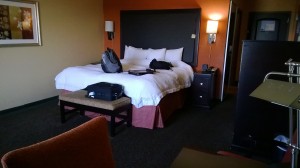 Starving, I decided to look for a place to eat. I settled on Panda Express, where I ordered a bowl with string bean chicken, fried rice and a side of spring rolls. I wished I had search a little more. I promise to avoid national chains the rest of the trip.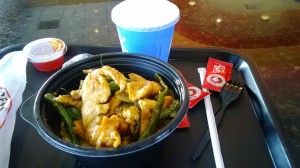 Back at the hotel, I pulled out my laptop and worked on this post. I gave my wife and son a call. They are having fun visiting California. Hearing my son's little voice was the highlight of the evening.
So it's time to hit the sack. It's early, but I'd like to get an early start tomorrow. The first thing I want to do when I arrive is jump in a cold spring, either Barton Springs or Deep Eddy. Doesn't matter. It's all about beating the oppressive Texas summer heat.
Introvert's Travelogue Part Two