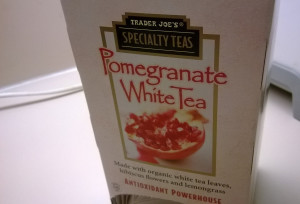 I don't normally do flavored tea infusions, but this one was in the cabinet so I gave it a whirl. Though pomegranate and white tea are in the name, neither are detectable in the brew. They take a back seat to the tart flavor and bright red color of the hibiscus flowers (listed as the second ingredient).
Other ingredients in Trader Joe's Pomegranate White Tea include lemongrass and organic citrus flavors. Marketed as an antioxidant powerhouse, I suppose this tea appeals the the health conscious non-tea drinker.
Verdict: This infusion is best served over ice.