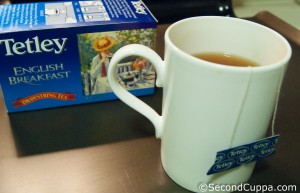 If you live in America, you can find Tetley English Breakfast Drawstring Tea in the Specialty Tea section of Tetley USA's online store. As far as I can tell, a couple of things makes this tea 'special': the patented drawstring tea bags you pull apart to squeeze out every last bit of liquid and the fact that it's imported from England.
All this speciality comes at a cost to me and you — roughly 17 more cents per tea bag than Tetley British Blend, which is easily obtainable at your local grocery store. At 23 cents per tea bag, the cost of Tetley English Breakfast hovers in Keurig K-Cup territory.
Now that we've considered the economics of the situation; let's experience the tea. The subtle aroma is pleasantly sweet with hints of raisin and plum and, to a lesser extent, citrus. Tetley English Breakfast has a mild, rounded flavor that goes down smooth and offers a mildly bright finish.
I do enjoy drinking this tea. It has more characteristic than British Blend and, with individually wrapped tea bags, it travels well. While it's not as full bodied as you might expect from an English breakfast tea, it handles milk pretty well. The drawstring tea bags may seem kind of gimmicky at first, but they do what they promise; see my demonstration below.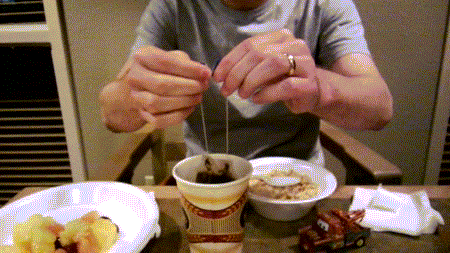 | | |
| --- | --- |
| Aroma: | Sweet, raisin, plum, citrus |
| Body: | Medium-Full |
| Flavor: | Bright, sweet and smooth |
| Color: | Amber |