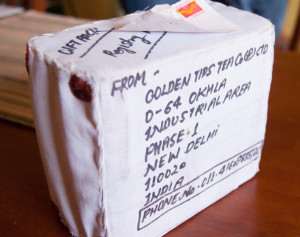 Tea produced in India can come from several regions, and Golden Tips Tea Company has them all covered. They sent me a small sampling of teas, which arrived in a carefully assembled package, boxed the usual way in cardboard but with an outer wrapping of firmly sewn muslin cloth with fancy wax seals.
Impressed already with the packaging,  I couldn't wait to start sipping. There's no point in drilling into details such as tea leaf grade or flush; you can find all that information on the Golden Tips Tea website). Instead, I'll just give my brief opinions of each tea.
Avaata Supreme Nilgiri Green Tea
Light yellow in color, this green tea has a mild, flowery aroma with an extra light and buttery flavor. This tea reminds me of some white teas I've tried. My first Indian green tea.
Thurbo Moonlight Darjeeling
This Darjeeling — with its sweet, fruity (white grape as well as citrus characteristics), flowery aroma — goes down smoothly. Golden in color and lacking any dryness or astringency, this is a really nice tea that anyone could enjoy.
Halmari Gold (Assam)
Pretty ruby-orange color with a sweet aroma, both flowery and chocolaty, this tea is full bodied with a tannic flavor and lingering astrigency. I enjoyed it with a splash of milk.
JungpanaPremium Darjeeling
Solid amber in color, this tea offers an aroma that is fruity, grape-like (muscatel as they say), earthy, flowery and generally sweet. The body seems fuller and the flavor seems bolder than most Darjeelings I've tried. Though slightly bitter in the mouth, what ultimately lingers on the palette is a satisfying sweetness.