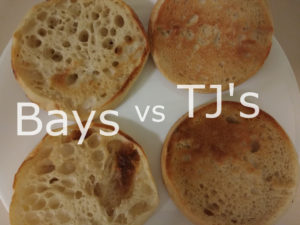 Trader Joe's does a lot of things well. I eat more of their Half Moon Cookies than I should. Their frozen Vegetable Biryani is a dietary staple of mine. The crumpets they sell are moist and spongy, and I dig their ice cream, Irish Breakfast tea, bagels and frozen pizzas too.
I'm on a bit of an English muffin kick these days. Bays is the brand I prefer from the grocery store, but how do they compare to the muffins from Trader Joe's?

Should you ever find yourself in Austin, Texas with a particular craving for British bangers, back bacon, fried eggs, fried bread, roasted tomatoes, and mushrooms, you're in luck. Yes, there's a place that serves the aforementioned in addition to tea and other British foods, and it's called Full English Cafe. Though difficult to spot, this tiny place just off Manchaca Rd. (on Southern Oaks Dr.) is worth the search.
High Tea
Besides upscale hotels and restaurants, there a few places to enjoy afternoon tea in the United States. Full English Cafe fills this void successfully, offering High Tea (really afternoon tea unless you're stoned, of course) almost any time of day in a cozy, relaxed atmosphere. For a reasonable price, you get a tiered tray full of made-from-scratch sandwiches, scones, cakes, and biscuits (cookies) served with a pot of tea or coffee.
Full English Breakfast
Full English Cafe offers three versions of English breakfast, which vary in measure and quality (free-range vs non-free-range eggs and meats). Made in-house, the bangers contain locally sourced pork.

For those days when the Big British Breakfast isn't big enough, you can add more bangers, bacon, eggs, cheese, salad, bread, tomatoes, mushrooms, and even Heinz beans — all available as side items.

Round out your English breakfast with an English-style pancake — thinner than its American counterpart, pan sized, and traditionally topped with lemon and sugar. If you need a more compact breakfast, try one of the Full English Cafe's breakfast sandwiches, served on bread from Sweetish Hill bakery.

Order off the 'On Toast' portion of the menu for a lighter breakfast or snack. On toast options include two fried eggs, butter and marmalade, and of course Heinz beans, the perfect catalyst for extra wind at your back.
Tea
A great place to enjoy a proper cuppa with your friends or solo, Full English Cafe features some British household staples from across the pond as well as some local Austin blends from Zhi Tea. Order PG Tips, Tetley, or Twinings English Breakfast by the cup or pot.

Other brand-name teas available include Lipton Yellow Label and Brooke Bond Red Label. Chai latte (hot or cold) and Austin Breakfast, Dragonwell Green, and Ginger Peach Oolong from Zhi round out the tea menu.
Other British Foods
Full English Cafe serves supper on Friday and Saturday night. The supper menu is a surprise and may include shepherd's/cottage pie, bangers and mash, various pasties, and sausage rolls.

It's hard to do this place full justice in a blog post. Just visit and see for yourself. Cheers.