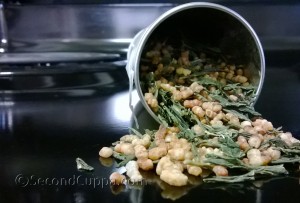 This is my first attempt at Genmaicha, also know as the "people's tea' or "poor man's" tea, which is a blend of roasted rice kernels and (in this case) sencha green tea. The tea was provided by The Persimmon Tree, an online tea purveyor based in Irvine, California.
I let boiling water cool for a minute and brewed the loose leaves for about two minutes. You can be a little looser with brewing time and temperature with Genmaicha because of the high rice content.
Much heavier in rice kernels than green tea, this enjoyable blend smells and tastes like Japanese toasted rice crackers with a hint of grassy sencha tea. Who new tea could be this savory? I found myself nibbling on the wet rice kernels after brewing, and I even grazed on a few dry ones too.
| | |
| --- | --- |
| Aroma: | Toasted rice, seaweed, grass, earthy |
| Body: | Light |
| Flavor: | Smooth, buttery, savory |
| Color: | Light yellow |
Disclaimer: The Persimmon Tree asked if I would be interested in reviewing a couple of their teas, to which I responded affirmatively. The opinions expressed in this blog post, however, are my own.