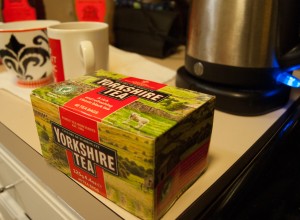 People are loyal to their tea brands. Mine is the best; all others taste like piss, so on and so forth.
This steadfastness is especially true for a certain category of tea known as English breakfast tea. It's the genre that first got me into this whole tea drinking business, which is why it takes up so much space here on SecondCuppa.com.
What is English breakfast tea (known simply as tea in England, I suppose)? It's a kind of tea blended for full body and strong flavor. Milk and sweetener are often used to dampen bitterness.
These blends are typically Assam-heavy, which gives them a full body and malty flavor. Also in the blend is tea from another region to add some aroma and flavor.
I've sampled many English breakfast teas over the last several years, but I haven't made it around to Yorkshire Tea (the one with the red label) by Taylors of Harrogate until recently. Not as robust (or bitter) as PG Tips, Yorkshire Red still maintains a hearty body and flavor that you expect from a breakfast tea.
Its mossy, citric aroma is pleasing, and it goes down smoothly with that chalky taste you'd expect from this category of tea and a slight lingering astringency. The tea was even sippable without milk and sugar — something I find difficult to do with PG Tips.
| | |
| --- | --- |
| Aroma: | Mossy, citric |
| Body: | Full |
| Flavor: | Chalky with lingering astringency |
| Color: | Dark amber |