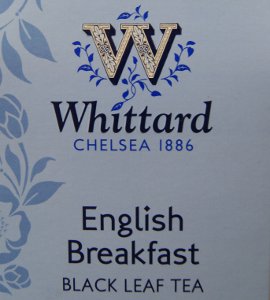 My local Kroger recently revamped its British foods section. Among the new additions were tea products — loose leaf and bagged — from a company called Whittard Chelsea 1886.
I brought home their English Breakfast tea which the packaging claims is strong, bright, and full bodied. It is a blend of Assam, Ceylon, and Kenyan.
Unlike the English and Irish teas that I drink most often, Whittard English Breakfast actually has an complex aroma. It reminds of the pipe tobacco my dad used to smoke. I detect some sweetness with a hint of vanilla.
When brewed this blend is equally complex. Present is the maltiness and strength I'm accustomed to plus a sweet, almost fruity, taste. It finished smoothly.
Whittard English Breakfast does not brew as dark as PG Tips, Lyons, or Barry's, which took some getting used to. It is strong nonetheless and matches very well with milk.
It will get bitter if brewed too long, so stick with the 3-4 minute suggested brewing time. This one is a definite keeper — maybe not for breakfast, but definitely for an afternoon break.