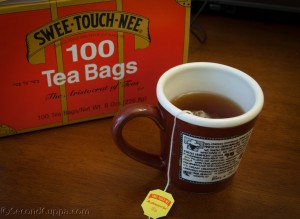 I've passed this tea countless times in the kosher section of my grocery store; it's labeled 'The Aristocrat of Teas.' I've read many Amazon.com reviews from people who were delighted to reconnect with the Swee-Touch-Nee Tea they so fondly remember from their childhoods growing up the New York City area.
But sometimes we develop nostalgia for things that, as adults, we realize really weren't that great. I assumed this was the case with Swee-Touch-Nee. I was kind of wrong.
It's not the greatest tea, but I appreciate many not-so-great teas, and this one has some characteristics that make it worthwhile. The aroma always appears sweet and vegetal to me. Sometimes I notice a woody quality, and sometimes I detect a tiny bit of sweet spice (whatever that is). It goes down smooth with pleasant astringency, and it seems to pack quite a caffeine punch.
Though Swee-Touch-Nee tea's medium body holds up fairly well to milk, I find it best enjoyed without. A little sweetener or lemon would be okay.
Swee-Touch-Nee, in case you're wondering, is a transliteration of the Russian word 'tsvetochny,' which means flower. Strangely enough, today my wife asked me, 'What was that tea you made the other morning that tasted flowery?' Perhaps her succinct analysis is more accurate than mine.
| | |
| --- | --- |
| Aroma: | Vegetal, sweet, earthy, woody |
| Body: | Medium |
| Flavor: | Smooth, sweet, some astringency |
| Color: | Brownish amber |