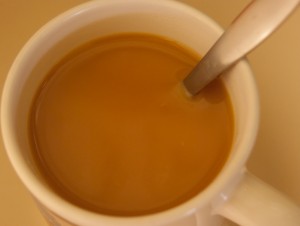 Tea is loaded with healthy antioxidants. Green tea has more, but black tea has plenty. And antioxidants are believed to improve vascular function in humans and other animals. So all this time, I thought I was doing well for my arteries when I enjoyed a cup of black tea with milk.
If you like your tea with milk too, you may be disappointed to learn that a certain type of protein in cow's milk may negate the benefits of the antioxidants. At least, this is the conclusion of a 2007 study conducted in Germany.
In the study, 16 healthy females were given tea, some of which contained 10% skim milk. A high-resolution vascular ultrasound was administered to the subjects right before and two hours after consuming the tea. Those who had tea without milk showed improved flow-mediated dilation (FMD) while those who had tea with milk showed no FMD improvement.
Despite this study's results and all the negative things I read about cow's milk lately, my staunch love for milk — by itself or in combination with tea — goes on. But I do limit myself to one cup of black tea per day (ok, sometimes two), opting instead for a green or oolong tea in the afternoon, which can only be enjoyed sans milk.
If this information regarding the relationship between tea and milk is a hard pill for you to swallow, just do a little internet research on fluoride levels in tea. You may find yourself giving up the Camellia sinensis plant (and the red bush) altogether.