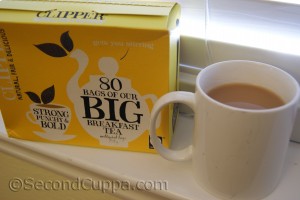 Clipper Big Breakfast Tea has been a part of my morning routine for the last few days. This morning I paired it with a multigrain English muffin from Trader Joe's while watching the latest news regarding the Boston bombing suspect who was apprehended last night.
Strong, punchy, and bold is what the package of 80 tea bags promises. Clipper's teas are Fairtrade certified, meaning their sourcing meets certain labor, environmental, and ethical standards. The large, rectangular, unbleached tea bags seem to contain a respectable amount of tea.
While many Clipper tea varieties are offered to US consumers through Amazon.com, I had to order Clipper Big Breakfast Tea through an UK-based, online merchant and pay a ridiculous amount in shipping. I first tried ordering directly from Clipper Teas' website, but my order was immediately cancelled (without notification) because they do not deliver to my part of the world yet.
The tea was very much what I expected. The aroma was a familiar mossy and citrusy combination. The flavor was astringent, bright, and bitter before the addition of milk. I can say with certainty that anyone who favors this sort of tea won't disappointed with Clipper Big Breakfast Tea. It certainly was a great comfort to me this morning.
| | |
| --- | --- |
| Aroma: | Citrus fruit and moss |
| Body: | Full |
| Flavor: | Bright, astringent, and bitter |
| Color: | Dark |