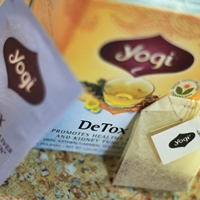 In today's fast-paced world, efficiency and multi-tasking have never been more critical to success. The world wants results, and it wants them now — so why should your choice of tea be any different?
Imagine my surprise when a tea that promised a gentle liver-kidney detox subsequently delivered a pleasant, unadvertised trip to the restroom! I had eaten plenty of crapfood that day and Yogi Tea gifted a soothing laxative fit for a king. It's hard to beat that kind of efficiency.
I've been a Yogi believer for about 5 years now; since I tried their Bedtime tea and fell asleep 10 minutes later. A couple of Yogi blends later (Kava Stress Relief and Stomach Ease), I landed on Detox. They all seemed to have a knack for being effective with a smooth herbal flavor.
Yogi Detox advertises "Organic Dandelion" on the front of the box, which a little confusing. I mean, couldn't I just harvest organic dandelion from the blades of my weed whacker? Well, yes, but Yogi's mastery of herb fusion makes Detox a winner and my dandelion-and-hot water a loser. It may also be worth pointing out that dandelion could be beneficial for diabetes, bone health, stomach function, and whaddaya know … can even serve as a liver detox.
English breakfast tea, this is not. You can smell the herbal ingredients as soon as you open the box. The taste is no different: a unique cinnamon/ginger twang with a spice taste heavy on Indian Sarsaparilla. The taste hangs around for a while, but the combination of extracts (possibly the Japanese Honeysuckle Flower, Rhubarb Root, or Long Pepper Berry) keeps it sweet and enjoyable.
Regardless of your taste in tea or your stance on alternative treatments, give Yogi Detox a shot. The first sip might be hard to swallow if you're not typically the chai type, but it gets better. You might surprise yourself by enjoying the strong herbal flavor or one of Detox's projected health benefits.
If nothing else, you should get a solid bathroom break. And I do mean solid.