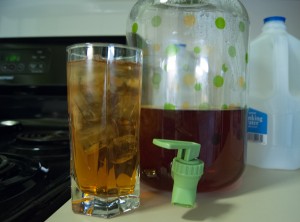 Tetley Black & Green is the US counterpart to the UK's Tetley Blend of Both. It comes with 72 round tea bags per package.
Black & Green is an easy tea to enjoy hot, and it makes an exceptional iced tea. Disappointingly, it doesn't play as well with milk (for those who like their tea English style) as does the fuller bodied Blend of Both, which you can now find on Amazon.com.
Use a shorter steep time to avoid bitterness, especially for hot tea, and enjoy Black & Green's anodyne flavor — basic black tea with an added hint of green tea freshness. It's nothing spectacular, but that's not the objective here. This is tea for the masses.
| | |
| --- | --- |
| Aroma: | Moss, seaweed, vegetal |
| Body: | Medium |
| Flavor: | Mostly smooth with slight astringency when brewed longer |
| Color: | Amber |