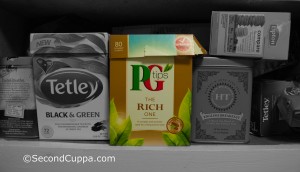 PG Tips launched its Premium Range of teas a couple of years ago, though I've had a hard time ordering them stateside. I did recently get my hands on The Rich One, which I've incorporated into my tea rotation for the last couple of weeks.
The main selling point for this and the other premium range of teas, which also includes The Strong One, The Fresh One and The Mellow One, is the process in which the tea is produced. PG Tips claims to have discovered a new technique where fresh tea leaves are picked and pressed to release their juices; the juices are then added back to the final oxidized tea leaves at the end of production.
The Rich One is a blend of African, Ceylon and Assam teas that definitely offers more complexity than your standard PG Tips. I did run into issues with the first couple of tea bags; they seemed to produce a more vegetal, green tea aroma than subsequent tea bags.
Now I'm consistently getting a citrusy aroma, full body, and a strong and somewhat bitter flavor. As you would expect, The Rich One pairs well with milk and sweetener.
Though I can't quite put my finger on it, I get a disconcerted feeling about this tea. It's like the process of extracting the tea's oil and placing it back somehow leads to an unnatural, fabricated result — a frankentea if you will.
All said and done, however, it's been a pleasure to drink.
| | |
| --- | --- |
| Aroma: | Vegetal, Citrusy |
| Body: | Full |
| Flavor: | Strong, slightly bitter |
| Color: | Dark Amber |