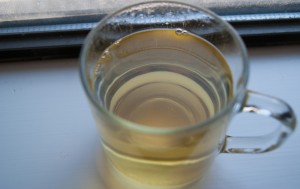 Bao Zhong (also referred to as Pouchong) in an oolong tea that undergoes very light oxidation. Of the oolongs I've tried so far, this is my favorite.

The Persimmon Tree's Bao Zhong delivers a mostly floral aroma with a bit of vegetal in the mix. It sits somewhere in the spectrum between green and white tea.
Smooth and buttery, this Bao Zhong has a pleasant mouth feel. I haven't detected any bitterness so far when brewing at approximately 195 degrees Fahrenheit for three minutes.
Easy and enjoyable to drink with low-to-medium caffeine content, this tea left me nice and relaxed.
| | |
| --- | --- |
| Aroma: | Floral, slightly vegetal |
| Body: | Light |
| Flavor: | Smooth, buttery |
| Color: | Yellow |