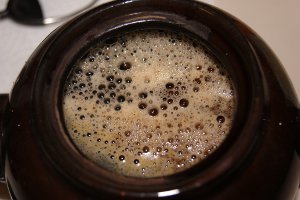 English Tea Store (EnglishTeaStore.com) sells an impressive variety of teas — both brand name as well as their own — and tea accessories. It's hard to remember, but at least one of my teapots was purchased there.
I finally got around to sampling a couple of their teas — Scottish Breakfast and Irish Breakfast. This review concerns the latter.
English Tea Store packages their tea nicely in sturdy, resealable plastic bags. Their Irish Breakfast blend, a mix of Assam and Tanzanian teas, features tea leaves that are finely cut for faster brewing.
No special instructions are provided on the package, so I brewed the tea as I usually do: five teaspoons of tea in my four-cup teapot. I let it steep for about 3-4 minutes.
I could tell immediately after pouring the boiling water into the teapot that the tea would have a very malty characteristic. The amount of froth the teapot is a good indicator in my experience.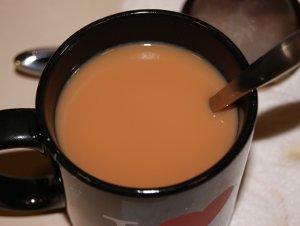 I added whole milk and about a teaspoon of honey to my cuppa. As I would expect from an Irish breakfast tea, this one delivered a full-bodied, forceful flavor — slightly more robust than PG Tips and very similar to popular Irish brands like Lyons and Barry's.
Like Barry's Gold Blend, English Tea Store's Irish Breakfast blend brews to a slightly reddish color. It is as appealing to look at as it is to drink. The 4.4 ounces I ordered won't last very long in my house.