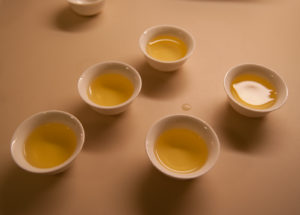 Today marks my first attempt at gong fu (Chinese tea ceremony). I bought a cheap gong fu travel set on Amazon.com that included a gaiwan (teapot), a pitcher, a strainer and five tea cups — all in the tiniest form you could possibly imagine. No tray or pets come with this set.
I celebrated the inaugural occasion with Young Hyson Imperial Organic, a Chinese green tea from Upton Tea Imports. I also ordered a pu-erh sample from Crimson Lotus Tea but figured that to be too ambitious and involved for a first-time gong fu-er (and pu-erh-er).
First Brew
I measured 2.25 grams of tea leaves, put them in the gaiwan, brought the boiled water down to 180 degrees by waiting 4 minutes, and steeped for 3 minutes. I poured the brew into the pitcher and then into the individual cups.
It smelled like green tea but tasted way too bitter. 'Twas then I realized I didn't measure the leaves properly. The gaiwan capacity is only 3.5 oz, less than half a cup, so instead of 2.25 grams (which is intended for an 8 oz cup) I decided to use 1 gram for the second steep.
Second Brew
Much better. The tea was bright yellow in color. I couldn't get a good sense of the aroma. Maybe my nose wasn't functioning well at the time, but all I was able to detect was grassy with slightly sweet notes.
The mouth feel was a different story. I would describe the sensation as bold yet smooth and buttery with a delightful amount of lingering, drying tannin sensation.
Third Brew
I decided to measure a full cup's worth of leaves and use my tea maker. The result was more greenish on the color spectrum with a similar aroma and that same wonderful mouth bliss as the previous attempt. Plus, it was more satisfying to sip from a regular-size tea cup. Cheers to Young Hyson Imperial Organic Green Tea!
Strange Brew – Gong Fu Conclusion
I failed at gong fu. Perhaps my mistake was with the tea set purchased. The pitcher pours poorly, and the cups seem too small. Next time I might brew and sip directly from the gaiwan, or brew in the gaiwan and use pitcher as a cup.