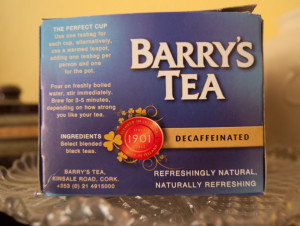 I've told myself many times before that I'd never try another decaf tea again, yet here I am. Maybe if I wish really hard, a good — at least a decent — decaf will come my way, and I'll get to enjoy real tea in the evening.
Is Barry's Decaf the one I've been looking for? Probably not, but it's the best one so far.
The expectation with Barry's Decaf is that it would both stand up to milk and taste like black tea. Well, one and a half out of two ain't bad.
One tea bag produces a full bodied brew — something I can't say for the other decaf English/Irish style teas I've tried so far. Yes, it handles milk just fine. The aroma and taste are vaguely reminiscent of tea, which is all I've come to expect from decaf.
Barry's should be commended for using the safe and least destructive CO2 decaffeination process. Unfortunately, tea is too delicate to withstand any decaf processing.