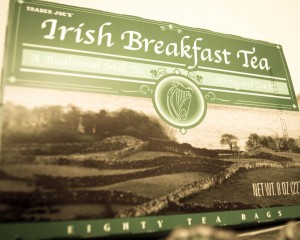 The box is green of course, with an image of a fertile Irish landscape by the sea. Second flush Assam paired with Kenya tea creates 'a hearty, full-bodied blend,' reads the copy on the package of Trader Joe's Irish Breakfast Tea.
The pleasantly sweet aroma of the dry tea leaves sets a high expectation. Add boiling water, wait for 3–5 minutes, and you end up with something slightly tamer than Irish tea should be.
Earth, moss, and tree bark come to mind when trying to describe the aroma. Gone is the sweetness of the dry leaf. Also missing is the astringent punch common among Irish tea brands like Punjana and Barry's.
But Trader Joe's Irish Breakfast tea isn't a complete dud. I drink it occasionally in the late morning or early afternoon to help my brain function. It's a simple, smooth tasting tea at an affordable price.
| | |
| --- | --- |
| Aroma: | Mossy, earthy |
| Body: | Full |
| Flavor: | Smooth, kind of flat |
| Color: | Dark |