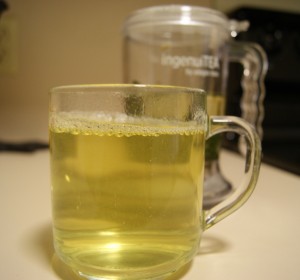 Martin Luther King Jr. Day, President Obama's second inauguration, and a day off from work — what to do? Try a new tea, that's what.
I've heard lots of good things about Japanese green tea, so I decided to initiate myself with a sample of Sencha Overture from Adagio Teas. Green tea (this one in particular) is delicate and must be brewed at a lower temperature than black tea. Sometimes a little trial and error is necessary to find the optimal temperature.
In my first attempt, I steeped the loose tea leaves in 170°F water for two minutes, as recommended on the packaging. The result was too bitter for my taste, so I did some research.
I found instructions on a website dedicated to Japanese tea which suggested brewing in 158°F water for one minute. By the way, I boiled the water, poured it into a Pyrex measuring cup, stuck a meat thermometer in it, and waited until the water cooled down to the right temperature before adding it to the tea leaves. Success!
This brew, light green in color, has a heartier texture than I expected, yet it delivers a fairly clean finish. Its strong aroma can be likened to freshly cut grass or seaweed. If you want bitterness, steep a little longer or at a higher temperature like I did the first time.
| | |
| --- | --- |
| Body: | Light to medium |
| Flavor: | Sour, sweet, and bitter |
| Color: | Light green; tea becomes cloudy after a minute or so |