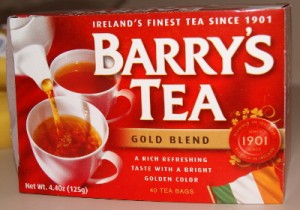 The first thing I notice about the aroma of Barry's Tea Gold Blend (tea bag version) is the last thing my palette is left with after sipping it: a sharp citrus quality that reminds me of the clementines (mandarin organges) that are now in season.
This full-bodied Irish tea is both robust and smooth. Three minutes of steeping does not produce significant bitterness. It has the maltiness you'd expect from a tea of this kind with a bright, mildly astringent finish that lingers on the tongue for a while.
Barry's Tea Gold Blend goes well with a splash of milk. A small amount of honey or sugar is good too.
Aroma (brewed):
Sweet and citrus like
Body:
Full
Flavor:
Bright finish with moderate astrigency
Color:
Dark amber (even though it's advertized to be golden)