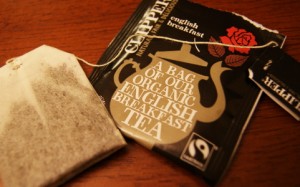 While Clipper produces a wide range of teas, US residents are mostly limited (at the time of publication) to a few varieties offered through Amazon, which is where I ordered their Fair Trade Organic English Breakfast Tea. You may order the tea you want directly from Clipper; however, you probably won't want to pay the $64 postage fee.
The tea arrived in 6 packages of 20 individually wrapped stringed tea bags. If available, I would've opted for the larger, non-stringed tea bags (or even loose tea) because, true or not, I've been conditioned to believe larger tea bags lead to a better brew. I'm certain the Clipper spokeswoman, Sophie, in the video below — discussing how to make a proper pot of tea — would agree.
What Clipper Organic English Breakfast Tea lacks in body (compared to other builder's teas like PG Tips, Tetley, Typhoo, Barry's, Punjana, etc.) it makes up for in quality. You can easily discern both the malty characteristic of the Assam and the brightness of the Ceylon without having to contend with bitterness or astringency. Five minutes of steeping and nudging the tea bag a bit did not result in any bitterness for me.
Yearning to try their Fair Trade Organic Assam Tea with Vanilla, I hope access to Clipper's full range of teas in the States will one day become more economically justifiable. Until then, I'll happily work my way through the English Breakfast packs.
| | |
| --- | --- |
| Body: | Medium |
| Flavor: | Bright and smooth |
| Color: | Dark amber |