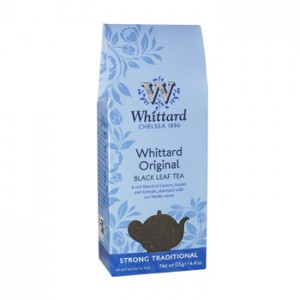 What makes a good breakfast even better? A good tea, that's what. And not only is Whittard Chelsea 1886 Original a good tea, it's readily available on the international aisle at my local grocery store. No need to wait for delivery.
This blend of Assam, Ceylon, and Kenyan teas has a pleasant aroma that I liken to freshly cut grass. On the tongue, it's full-bodied, malty, mildly sweet, and moderately astringent. It has the kind of bright finish I've come to expect from Ceylon.
Whittard Original rivals, in both freshness and taste, the loose teas I've purchased from online merchants. Also available at the grocery store (and another perfect day starter) is Whittard English Breakfast, previously reviewed at Second Cuppa.